Lift Yoga + Body is a boutique yoga studio offering classes for all ages, all bodies, and all levels. We have two beautiful locations, one in the heart of Alpharetta, and one in the heart of Dunwoody. Our goal is to provide a safe, inclusive environment for our community to practice from sunrise to sundown. Our wide variety of class types and times offers the opportunity for a well-rounded practice and ability to stay committed to your practice no matter your schedule. Whether you're looking for a restorative, meditative experience, or an intense hot power yoga session, we have something for everyone. Visit us today and see why our community loves Lift!
We have two gorgeous studio spaces to practice in at both of our locations — the Sun Room and the Moon Room.
The Sun Room
The Alpharetta Sun Room was the original studio before our 2018 expansion. Warm and inviting, this space is used for barre, sculpt, circuit, vinyasa, and other non-heated yoga classes. The view of foliage from the windows provides a calm atmosphere away from the hustle and bustle of nearby downtown Alpharetta.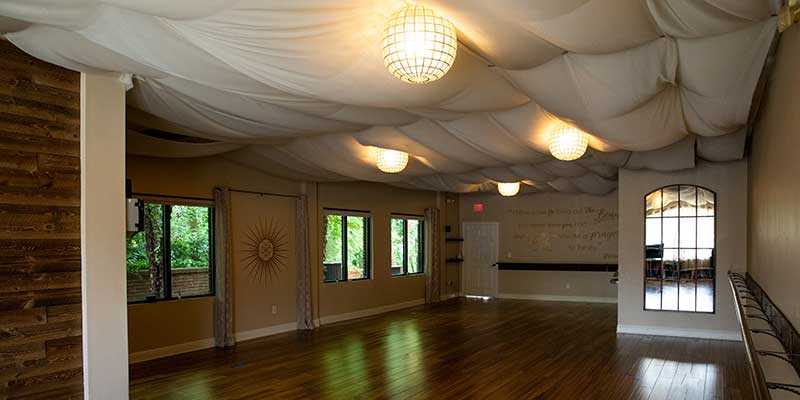 The Sun Room — Alpharetta Location
The Sun Room — Dunwoody Location
The Moon Room
The Moon Room is our largest yoga studio space in Alpharetta, that was added during the expansion that opened in 2018. This downright dreamy studio is sure to help you find your zen! Our larger classes and events are held here, and the infrared heaters crank the heat up for our warm and hot yoga classes.
The Moon Room — Alpharetta Location
The Moon Room — Dunwoody Location
Main Entrance + Reception Area in Alpharetta
Our main entrance and new reception area is located at the back of the building. When you turn off of South Main Street, drive around to the back and you'll find plenty of parking and signs to the entrance. Doors open about 15 minutes prior to class, and lock promptly at the time class is scheduled to begin. Please arrive a few minutes early to have time to get signed in and settled.